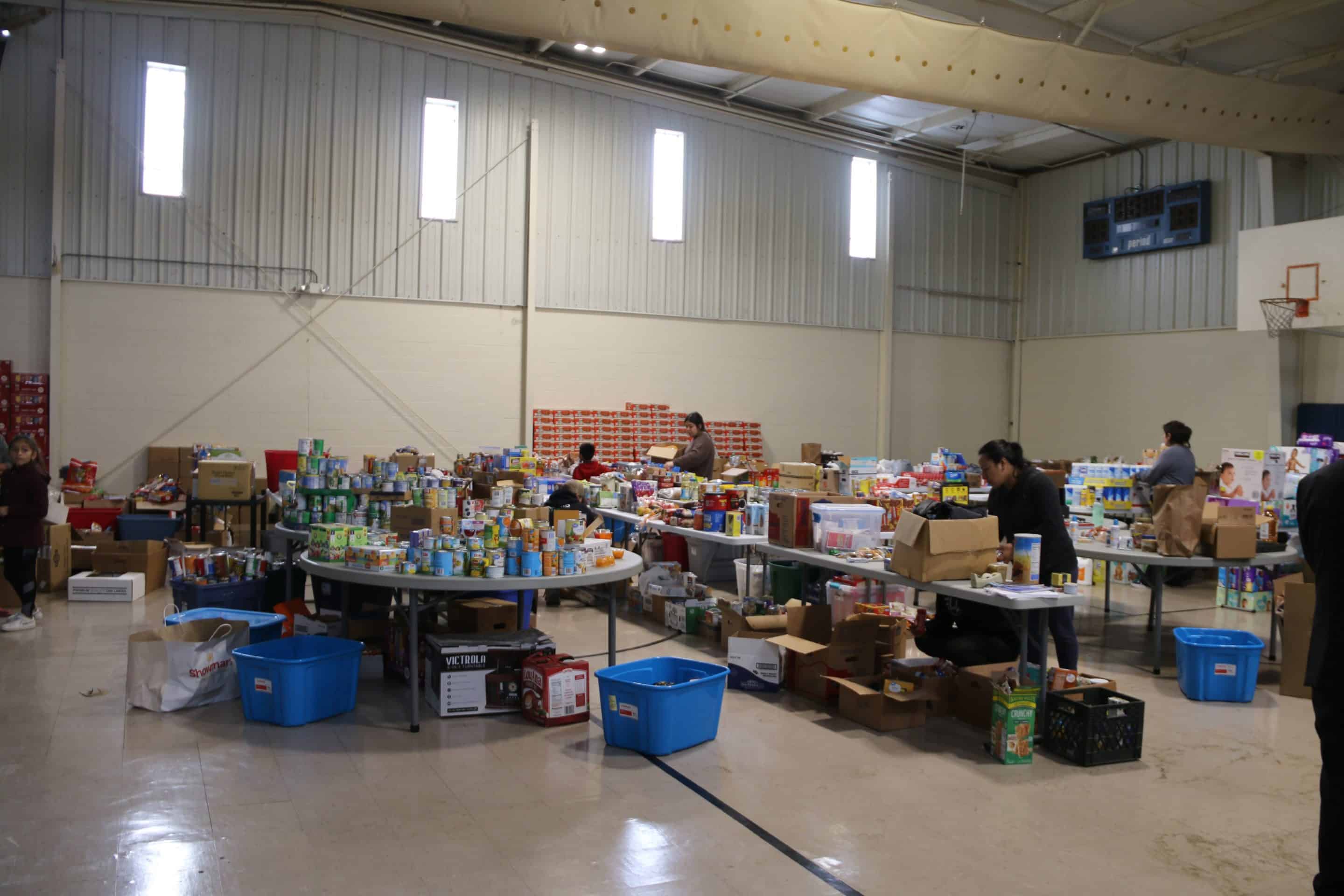 On Dec. 15, 2021, parishioners of St. Joseph in Mayfield operate a distribution center for survivors of the tornadoes that struck the region five days earlier. RILEY GREIF | WKC
'That's all we could do – but that's what we needed to do'
St. Joseph in Mayfield looks back on a year since the tornadoes
BY ELIZABETH WONG BARNSTEAD, THE WESTERN KENTUCKY CATHOLIC
A few days after the Dec. 10, 2021 tornadoes devastated her hometown of Mayfield and the surrounding region, Christie Scarbrough woke up and thought "I can't even work because there is no power."
"It was a blur," said Scarbrough, who spoke with The Western Kentucky Catholic on Nov. 11, 2022, reflecting on the storms that shattered western Kentucky one year ago.
Scarbrough serves as the business manager of St. Joseph Parish in Mayfield, which suffered the loss of its belltower and front porch covering, as well as damage to the rectory. The former school building, located behind the church and used for religious education classes, received the brunt of the winds and was later deemed a total loss. The St. Vincent de Paul building next door was destroyed completely.
But Scarbrough and her fellow parishioners, under the leadership of pastor Fr. Eric Riley, quickly rose to the occasion and "it became helping and serving and feeding the community," she said.
St. Joseph set up a distribution center in its parish center, providing basic needs like toiletries and food for survivors who lost everything.
"Truthfully, when we were operating that distribution center, that's all we could do at that time," said Scarbrough. "But that was what we needed to do at that time."
She remembers "the outpouring of love" via donations and volunteers "coming from all over the country."
And then, it stopped.
She had been prepared by someone assisting from the Red Cross, warning her that the donations and volunteers would cease, so she was not taken by surprise.
"There's always a disaster somewhere," said Scarbrough. That being said, it was a mental shift not having people trying to help them 24/7.
"I still have two or three people who call regularly or send a monetary donation," she said, expressing her appreciation. She added that the Knights of Columbus from Jacksonville, Fla., who have provided a lot of support, plan to visit the parish around the tornado anniversary.
Over the past year, however, the porch and belltower have been repaired and the former school was torn down to eventually build a new religious education building. The church interior has been repainted and had new flooring put in, having suffered water damage before the roof and belltower could be covered. The tornado damage to the rectory has also been repaired.
"The bell's back in and Fr. Riley has rung the bell on several occasions just to remind people it's there," she said.
At the same time, recovery across Mayfield varies. Some houses have been repaired and people have moved back home. Others have yet to break ground to rebuild their houses.
They feel the loss of the former school as they currently hold religious education in the parish center and share that space with St. Vincent de Paul.
When the new religious education building is completed, "we hope to move our offices there too because our offices are currently in the rectory. We want to give the priest his home back!" she said.
Scarbrough estimated it will be "a good year" before they even break ground for the anticipated religious education building.
The parish transitioned out of running the distribution center during the summer, turning that role over to St. Vincent de Paul.
"They really are doing good work even in the limited space they have and with a lack of volunteers," said Scarbrough. "They have a lot of people coming to them and they are trying to help people the best way they can. So kudos to them!"
Today, "the mode I'm in now is back to business as normal… as normal as possible," she said. "We're all in a better place. Even in the community, the people are getting back to business as usual."
"Everybody is taking care of everybody, and that's what you hope to see," she added.
---
Originally printed in the December 2022 issue of The Western Kentucky Catholic.